Connect the Dots with Kayako for Salesforce
Equip your sales team with the same customer context that makes your support team extraordinary.
Have Better Conversations
Gain context into the conversations your customer is having with your support team.
Collaboration Made Easy
Sales teams can get involved in customer conversations and offer additional insight for your support team.
Bridge the Gaps
Break down the barriers and share knowledge between Sales, Success, and Support.
Get the Lowdown
Kayako for Salesforce gives your team a single view of customer conversations within Salesforce.
Instantly understand the issues customers are facing with an at-a-glance view including status and priorities.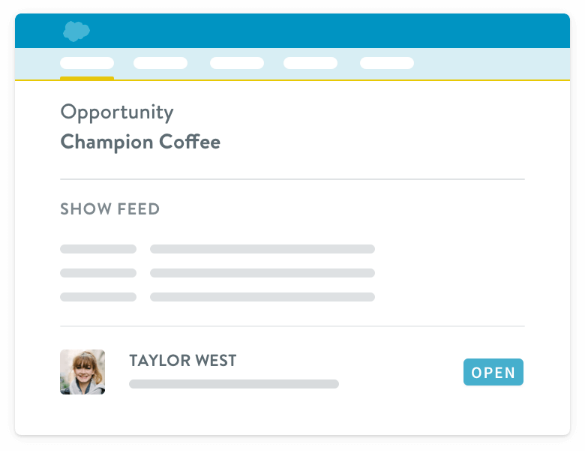 Context where you need it. See support conversations against Salesforce leads, accounts, contacts, and opportunities.
Visualize a Complete Customer Journey
Get The Full Context
Bring all your customers' interactions and activities together in one seamless customer journey.
Dead-Simple Integration
Kayako's Salesforce integration is as easy-to-connect as it is to use. Just a few clicks and you'll be capturing your customers' most relevant Salesforce activities in Kayako.
Add Context. Remove the Email 'Back and Forth'.
Great customer experiences happen when teams work together.
Your sales and success teams can become Collaborators within Kayako, so they can offer notes to help your support team have smoother conversations.
It's just another way Kayako helps bring everyone in your business closer to customers.
Getting Started is Easy
Install from the Salesforce AppExchange in minutes.
or read our helpcenter article
"Kayako positively and profoundly impacted how we interact with our customers daily and has allowed us to build meaningful relationships with them while also providing clear, concise customer service."
"From Day 1, we realized that Kayako shares the same passion for 'Customer Wow' as we do. Their tools and experience help us make this philosophy into a reality – effective, prompt, and succinct support."
"With Kayako, it's easy to quantify exactly how productive and efficient we really are. Our process is now quick and transparent and our customers, partners and staff are very happy with it."
"Kayako allows us to more effectively manage, monitor and deliver customer support. The Kayako solution was easy to implement and support as well as enhancements on the product have been outstanding!"
"We've been extremely satisfied with Kayako. So satisfied that we've never even thought about what alternatives might be available."
Make Service Go Smoothly
Sign up for a 14-day free trial. No credit card required.