Intercom Alternative:
Intercom vs. Kayako Comparison
Treat Your Customers As Individuals And Scale Your Support Team With Ease
Customer service and support teams often move to Kayako when they find Intercom is difficult to rely on and scale with. With Intercom, the more you grow, the more you're charged. This makes it hard to run your team, be productive and manage customer conversations efficiently.
When looking for an Intercom alternative that works for your business, it's important to know what you're paying for and how it can be replaced.
When you break down Intercom's features, this is what you get:
• Live Chat
• Help desk with a shared inbox
• Help center & knowledge base
• Simple CRM for leads and customer contacts
• Bots*
*Note: Intercom bots cannot solve issues. Instead, they pass messages on to a human while your customer waits for someone to get back with a resolution.
Kayako gives you every feature Intercom offers, such as live chat, a shared inbox, a knowledge base and social support at a friendly and affordable price—starting at just $15/agent per month.
And unlike Intercom, with Kayako you'll never have to worry about third-party integrations or expensive add-ons as your company grows. All the functionality you need is fully integrated and available right out of the box.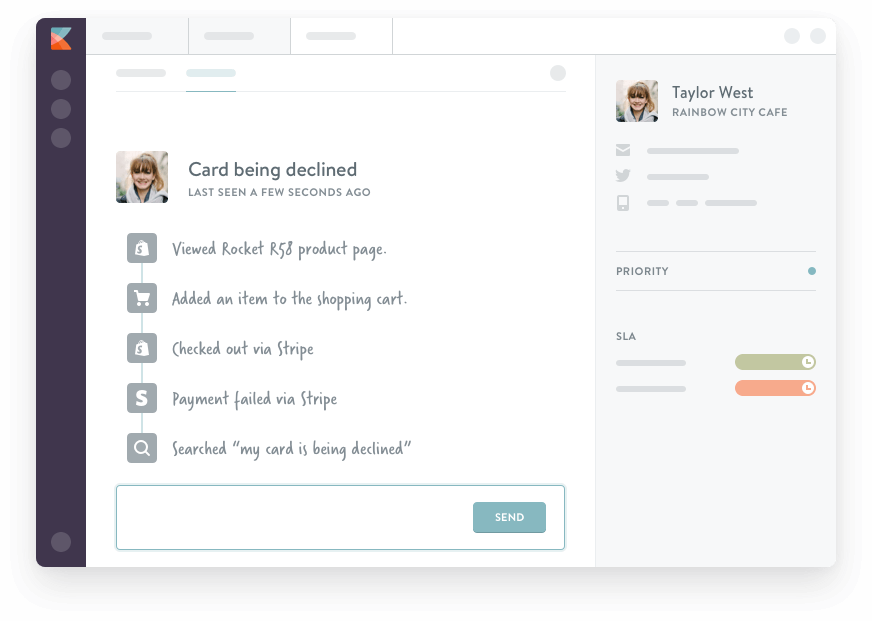 Truly Understand Every Customer
Customer Journey
Treat customers like they're people, not numbers. Kayako SingleView™ gives your agents a complete visual timeline that includes every interaction your customer has had with your business. No more overwhelming email chains, lost messages or repetitive questions. The information your team needs to respond quickly and personally is right at their fingertips.
Integrations
Kayako's seamless integrations bring all your customer information and activities together in one place. This enables your team to deliver well-informed and contextual support. Your agents will spend less time looking up information and switching apps, and more time actually helping customers.
Integrate With 700+ Apps Without A Single Line Of Code
Stay Personal,
Scale Effortlessly
Omnichannel Inbox
Support customers across live chat, email and social media without having to switch accounts.
Never Miss A Message
Visitors can start conversations at any time, even when you're not online. If a customer steps away and doesn't see your message, Kayako automatically sends a follow-up message to their email where they can continue the conversation.
In-App SLAs
Set internal goals for ticket response time and ticket resolution time and send automated reminders to agents to ensure they never miss a deadline.
Help Center
Help customers help themselves with a repository of self-help articles, videos and FAQs in your easy-to-search, branded Help Center.
Support Customers As A Team
Built For Support Teams
Optimize your workload by tracking ticket priority, sorting request types and updating statuses.
Collaborators
Bring experts from across your business and beyond into Kayako to share context with the free collaborators capability.
Automation
Save time with end-to-end workflows that route conversations to the correct teams, answer common queries with 1-click replies, update ticket statuses and more.
Insights
Understand your team's performance, capture customer satisfaction and get instant access to the metrics that matter.
Inbox
$15
per agent per month
Growth
$30
per agent per month
Scale
$60
per agent per month
Pricing That Doesn't Punish You For Growing Your Business
You shouldn't be punished for winning new customers. Kayako is priced per-agent, rather than by the number of customers you talk to or store in your database.
There's no need to worry about third-party integrations and expensive add-ons as your business grows. All the functionality you need is fully integrated and available straight out of the box.
"Kayako positively and profoundly impacted how we interact with our customers daily and has allowed us to build meaningful relationships with them while also providing clear, concise customer service."
"From Day 1, we realized that Kayako shares the same passion for 'Customer Wow' as we do. Their tools and experience help us make this philosophy into a reality – effective, prompt, and succinct support."
"With Kayako, it's easy to quantify exactly how productive and efficient we really are. Our process is now quick and transparent and our customers, partners and staff are very happy with it."
"Kayako allows us to more effectively manage, monitor and deliver customer support. The Kayako solution was easy to implement and support as well as enhancements on the product have been outstanding!"
"We've been extremely satisfied with Kayako. So satisfied that we've never even thought about what alternatives might be available."
Live Chat That's Fast, Effortless And Personal
Sign up for a 14-day free trial. No credit card required.