Why is Kayako the right Zendesk alternative for you?
Zendesk is one of the go-to help desk solutions for enterprise businesses with a lot of moving pieces. 
If you're looking for a Zendesk alternative you might be wondering whether the platform can adapt to the needs of a smaller business (and scale as you grow).
Kayako is built with both your customer and your support team in mind. So that you can easily provide the right help, when and where you need it, with the resources you have.
Want to see what the key differences are?
Kayako vs Zendesk
Kayako and Zendesk have a lot of things in common. But also some fundamental differences you should know about. We'll walk you through the main ones below. 
We'll start talking about how Kayako allows you to integrate more than 700 apps for free through Zapier so you don't have to pay for extra app integrations like in Zendesk's marketplace.
With Kayako you can also involve multiple collaborators from your internal team but also from external vendors or suppliers' teams. This is free as well with every plan. 
Unlike most help desk solutions out there, Kayako gives you a comprehensive view of the customer journey and allows you to quickly and easily reply to customers from one place, whether they ask for help on social, email, live chat or help desk.
Plus, this same view shows you all the context you need on each and every interaction a customer has had with your business, through all touch points.

"Custom domains, email forwarding, chat based support, knowledge base and help center, it's all there….Some other systems have so many features it's overwhelming. For a small to medium sized business, Kayako is perfect for managing customer support without any of the background noise."
– Donnie S, Technical Associate (G2)
"I like the Kayako software because it provides a simple integration for several support platforms in a software solution. Whether I use the web, email, phone, live chat, it allows me to easily obtain and manage customer messages and provide them with the appropriate response accordingly."
– Joseph L., Admin (G2)
"Collaboration is a big one. We have many remote employees and the ease of keeping teams in the loop has made the distance a non issue."
– Customer (G2)
Top 4 reasons customer service teams choose Kayako over Zendesk for their help desk and ticketing systems
Zendesk is powerful, customizable and a good match for business with a lot of resources and moving pieces. But does it fit your growing business?
Here's why customers are switching from Zendesk to Kayako for their help desk platform.
Free, easy integrations
Easily collect customer journey data from all touch points
Zendesk offers a marketplace with 1,000+ apps you can integrate with it, but a lot of those are premium and require constant updates: yet another cost factor and point of failure to keep into account. 
And preventing you from scaling.
In addition, the way Zendesk creates separate tickets, across these apps, might give you a siloed view of what's going on for your customers. Not helpful when you need to turn all the helpful data you collect into insights you can actually use. 
With Kayako, you can easily and quickly gather your customer journey data in one place through 700+ apps, free and without writing a line of code. 
The Zapier integration allows you seamlessly like Slack, Salesforce, Atlassian JIRA, and Trello. 
You can even create instant, real-time multi-step zaps. 
And to make your life easier, we've pre-built Zapier templates (30+), so you can get started right away. 
Effortlessly create connections that allow you to:
Add new Shopify customers to Kayako

Subscribe new Kayako users to a MailChimp list

Create or update Kayako users and cases from new Typeform entries

Add Stripe payments to a Kayako users timeline

Add tagged Kayako cases to Trello

Add new Magento customers as users on Kayako

Add new Kayako conversations to Google Sheets as rows

And more…
Plus Kayako helps you go further if needed, with our powerful, well-documented API, Webhooks and Kayako Apps (like our Salesforce integration).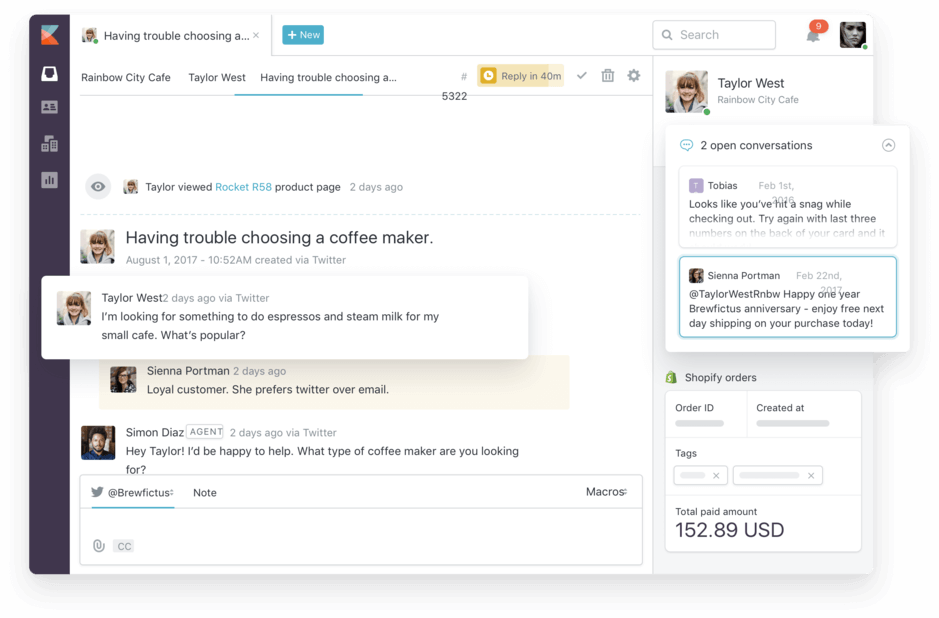 Free, easy collaboration
Get external input to respond quickly, included in every plan
Customer service needs to be reactive and efficient. 
It needs to be about your customers.
But as we've seen when it comes to integrating external apps, context is important if you want to provide the right help to the people who need it, when they need it. 
And even if you make it as easy as possible for your customers, if you silo your agents, you prevent them from gathering helpful context and information. Eventually delaying responses.
Zendesk makes it easy with their Light Agent feature, where you can have up to 50 users collaborate with you on tickets, providing insights and specific subject matter expertise. 
But that's limited to their 2 higher pricing plans. And do you really need 50 external agents? 
That's where Kayako Collaborators come in. 
You can have collaborators (from sales, shipping, billing, returns, or even external stakeholders like vendors and suppliers) step into your conversations to help resolve complex customer service challenges, for free on all plans.
Your customers won't see their input, so they'll always have one main point of contact to guarantee a streamlined and frictionless experience.
Kayako collaborators can leave private notes, assist agents with conversations and even draft help center articles you can re-use in the future.
We don't limit you when it comes to gathering data, especially when that data is in the hands of other team members. So you can respond quickly, and with confidence.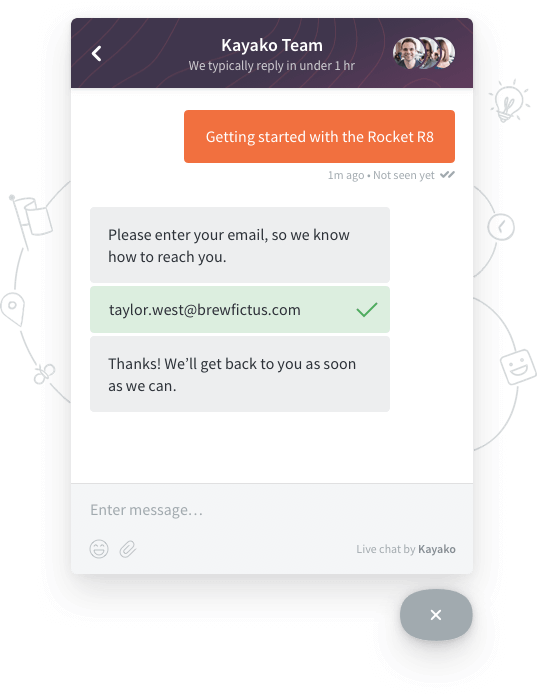 Central contextual omnichannel view
Meet customers where they are, without context switching
When your team has multiple dedicated resources for each media your customers interact with and can provide timely responses across the board, Zendesk is a great solution. 
Their powerful ticketing system makes it easy to communicate with customers, from one media to the next.
But when you're limited to a smaller team, you need all the information and all the context in the same place. Or risk customers feeling like they're being "dealt with" by yet another bot.
Kayako  allows you to gather all customer conversations (not "tickets") from all media into one contextual view. So your agent has everything under control at all times.
It's true contextual omnichannel, whether from social, email, live chat or help desk.  
While Zendesk requires you to switch between channels and separately shows you what the interactions with a customer have been, with Kayako you can quickly and easily understand what's happening at any point in the customer journey at a glance.
Capture your customer's journey
Way more than a ticket tracker. It's a personal experience
While Zendesk offers a robust ticketing system, small teams might feel siloed due to the complexity of managing and collaborating on tickets. 
It might be what has worked for years. But it's not the way humans interact with each other. And it might make it harder for your team members to offer the personalized experience your customers want.
With Kayako you can finally treat customers like individuals, not like faceless ticket requests. 
SingleView™ allows you to provide quick, personalized responses, avoid asking redundant questions and stay in the loop in case someone contributed to the conversation. All from one place. 
Here's some of the context you can get:
site visits

Purchases

shipping history

previous customer service inquiries

self-help searches

self-help article views

marketing emails they've received

and more.
Plus, you can capture events from your own product, app or service by connecting to 700 apps with Zapier. Slack and SalesForce integrations come out-of-the-box.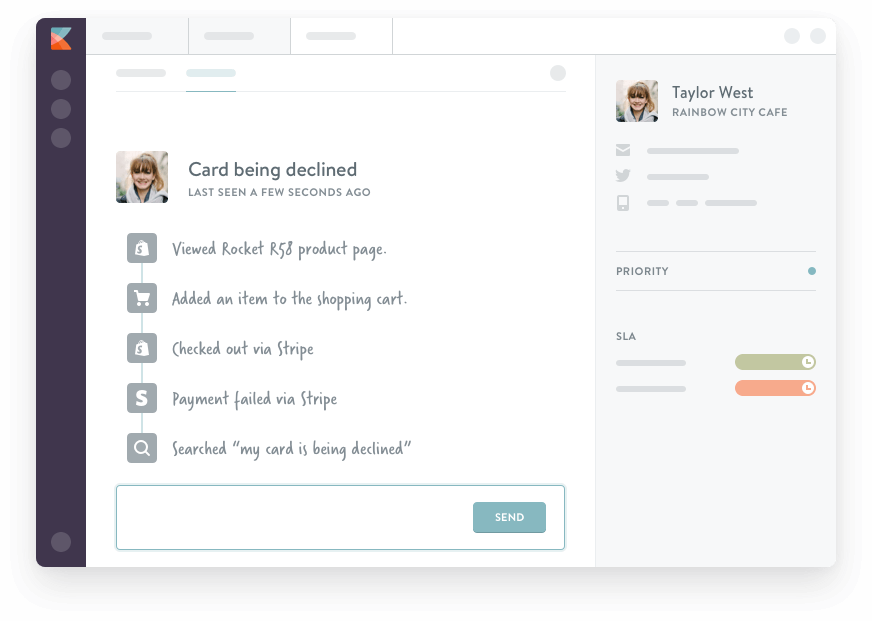 Get a flexible and affordable customer service and help desk solution, that fits your business and customers
700+ free, flexible Zapier integrations

Free collaborators included with every plan

Contextual omnichannel support for email, live chat, social and help desk

Centralized view of the entire customer journey and interactions