Effortless Ecommerce Customer Service With Our Help Desk Software
Drive sales and grow customer loyalty with email, social, live chat and help center support software.
Multichannel Ecommerce Customer Service Software
Multiple Email Inboxes
Manage all your email queues in one centralized, easy-to-use view, and never drop the ball.
In-App Facebook And Twitter Support
Receive and reply to customer queries over Facebook and Twitter without ever having to leave the Kayako interface.
Smart Team Routing
Allocate tickets and tasks to the appropriate teams, such as sales, customer service, shipping, billing, returns, etc.
Turn Visitors Into Customers With Kayako Messenger
Live Chat
Support customers in real time in the instinctively easy and natural way they want to talk with a modern messenger on your eCommerce site.
Proactive Engagement
Recognize when a visitor needs help, proactively offer support and make the most of cross-sell and up-sell opportunities.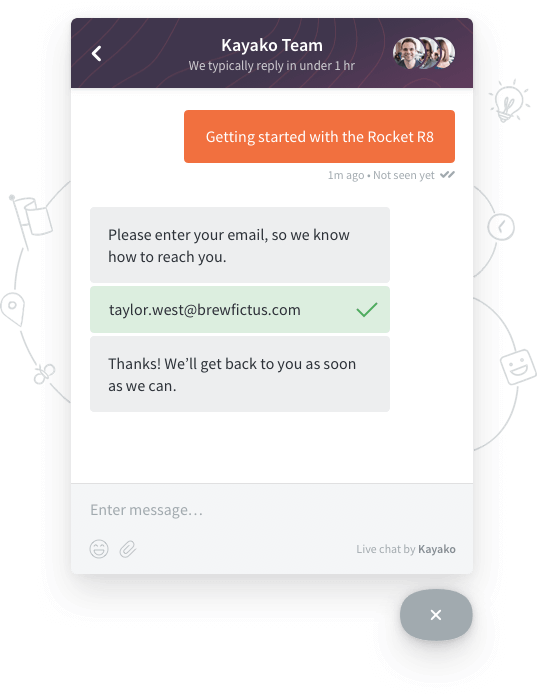 Visualize Customer Behavior And Purchase History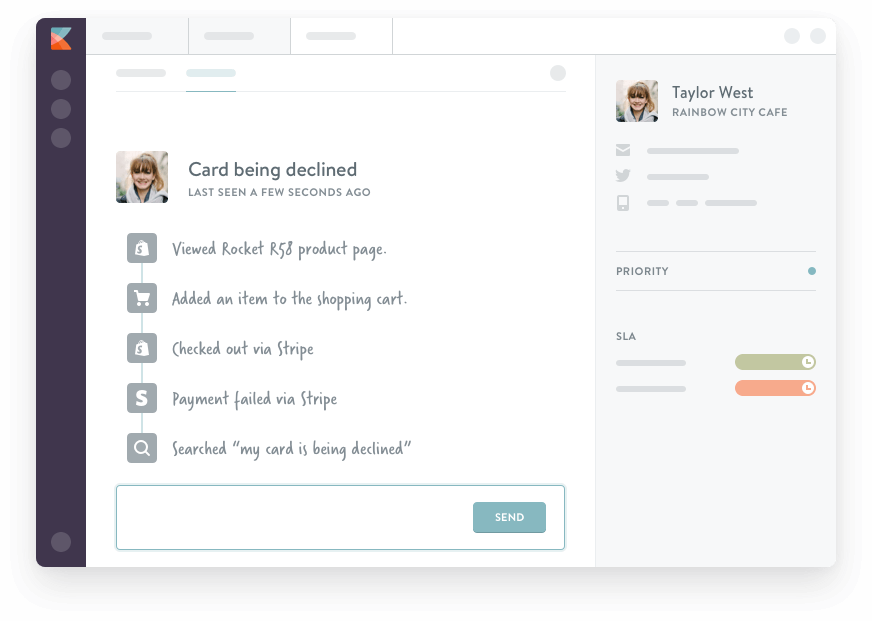 Customer Journey
Deliver personalized support with a detailed view of every page your customer has visited and every purchase your customer has made.
Integrate With Any Ecommerce Platform
Connect Kayako to your ecommerce platform via Zapier or APIs to automatically sync customer data and purchase information.
Custom Fields
Capture important details about customer profiles and preferences and keep the information always it at hand.
Easily integrate with any eCommerce system
Collaborate And Save Time
Pre-Written Macro Responses
Answer common queries with standardized 1-click responses.
Notes
Instead of emailing back-and forth, effortlessly share customer-specific information and next steps, and collaborate with private notes from other agents — all within Kayako's interface.
Collision Prevention
See when another agent is viewing or replying to a conversation to reduce duplicate effort. Merge tickets that come from various channels to provide a seamless experience.
Help Customers Help Themselves
Help Center
Reduce agent stress and lighten workloads by deflecting new support requests to an easy-to-search help center repository of self-help articles, videos and FAQs.
Help Center Analytics
Monitor search terms and popular articles to identify gaps in your self-service portal. Improve your help center by creating rich media content that matches what customers are really searching for.
Get Insights Into Customer Satisfaction
CSAT Scores
Measure customer support happiness and learn where you can improve.
Insights
Visualize your team's workload and performance with at-a-glance dashboards for key support metrics.
CES Scores
Measure customer effort score through an integrated survey app to identify areas where you can reduce friction.
"Kayako positively and profoundly impacted how we interact with our customers daily and has allowed us to build meaningful relationships with them while also providing clear, concise customer service."
"From Day 1, we realized that Kayako shares the same passion for 'Customer Wow' as we do. Their tools and experience help us make this philosophy into a reality – effective, prompt, and succinct support."
"With Kayako, it's easy to quantify exactly how productive and efficient we really are. Our process is now quick and transparent and our customers, partners and staff are very happy with it."
"Kayako allows us to more effectively manage, monitor and deliver customer support. The Kayako solution was easy to implement and support as well as enhancements on the product have been outstanding!"
"We've been extremely satisfied with Kayako. So satisfied that we've never even thought about what alternatives might be available."
Take Care Of Your Team With A Modern, Easy-To-Use Internal Help Desk Solution
Request a demo. No credit card required.