Deliver Exceptional Internal IT Support with Fewer Resources
Your high-growth company deserves more than a homegrown help desk solution. Kayako removes friction from your internal IT support process.
Your company is growing fast. Your homegrown solution for internal IT issues can't keep up with the growing volume of tickets. Not having a proper help desk system leads to wasted time, misspent resources and loads of frustration.
Only Kayako helps you put out employees' fires faster—while eliminating friction and inefficiencies.
Eliminate Friction And Resolve More Tickets Faster
Whether you've been managing support issues with an instant messaging channel like Slack, asking employees to find answers via self-serve, adding IT support professionals or some combination of all three—you know how hard it is to keep your network and systems running smoothly.
Kayako eliminates three different types of friction to make for a smooth and efficient service experience.
Content Friction
First, Kayako eliminates content friction. Your employees want to be able to help themselves. When they can't find solutions, whether it's via self-help resources or reaching out to a technician, they get frustrated.
Kayako solves this problem by making it easy to create and manage an employee-facing self-service help center. Complex topics can be thoroughly explained with videos, tables, images, etc. Your employees will find their own solutions with minimal time and effort, leading to higher satisfaction and increased loyalty.
Kayako's internal knowledge base creates a technicians-only space with quick answers to known issues, standardized responses, official policies and more. Your IT technicians will be able to handle more tickets and provide accurate, helpful answers every time.
Contact Friction
Second, Kayako eliminates contact friction by letting employees send messages via their preferred channels: chat, email, Facebook, Twitter and IM platforms like Slack. Your employees can also send messages via custom forms placed in the HelpCenter that contain custom fields that you create. All messages, no matter what channel is used, are automatically routed to the technician best equipped to handle the ticket. This ensures that no employees need to be rerouted mid-conversation and no inquiries ever slip through the cracks.
Context Friction
Finally, Kayako eliminates context friction. Employees hate having to repeat their story—their problem, their history and their profile details. Kayako removes this roadblock by capturing and displaying everything your technician needs to know about the employee's past and present situation. Kayako puts context at your agents' fingertips by integrating with hundreds of apps—such as Salesforce, Shopify and Stripe—as well as by capturing events from your own product, app or service. Your IT team will spend less time looking up information and switching between apps.
Give Employees and Technicians a Seamless Experience
Since friction can come from both sides of the service equation, Kayako gives both employees and technicians the resources they need to resolve issues as fast as possible.
It all comes together in our innovative feature called SingleView™. The SingleView™ dashboard combines insights from all three of the friction-eliminating areas into one centralized, easy-to-use view.
Your technicians can communicate with employees across Facebook, Twitter, live chat, email and more—all without leaving the SingleView™ dashboard. Alongside each conversation is a complete visual timeline that displays the employee's past service tickets and conversations as well as any self-help searches and the articles they viewed. Your technicians will be able to guide each employee to a solution without any repetitive questions or suggestions—creating an easy, frustration-free experience for all.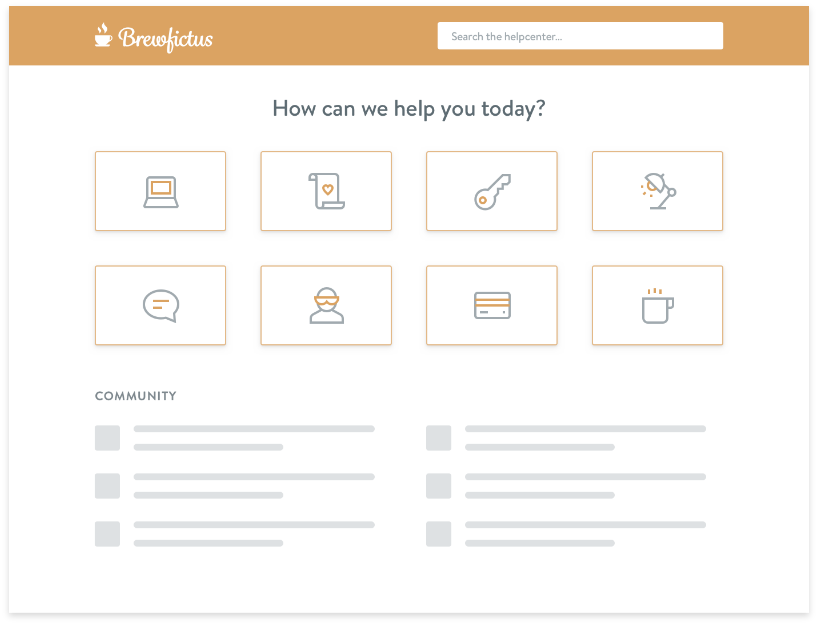 A Rich Media Knowledge Base That Employees Will Actually Want to Use
Deflecting issues to your self-serve knowledge base saves lots of time, but it won't work if your employees are resistant to using it.
Kayako transforms the self-help process, turning your knowledge base into an easy-to-use, highly effective resource. Articles are easy to create and format with our simple-to-use editor and can be offered in a variety of languages. You can even supplement your content with images and GIFs. Complex topics can be thoroughly explained with engaging videos, tables and HTML content. The Help Center's integrated search understands real language and makes powerful suggestions as employees type.
You can even tailor the support experience for your employees. Personalize your Help Center to match the look and feel of your brand with full control over colors and layouts. You can even create unique Help Centers for each of your brands.
Boost Productivity with SLA and Performance Reports, Key Insights and Customization
When delivering internal IT support, tracking key metrics is critical. You need accurate, reliable data in order to inform stakeholders and make sound decisions. That's why Kayako equips you with a wide range of SLA and performance reports, knowledge base usage insights and customization options.
These resources help you identify ways to increase productivity, ensuring that the service you deliver is always optimized.
Simple Collaboration, Banish The Back-And-Forth
Great IT support happens when teams work together. Kayako Collaborators, a specific user role, breaks down silos to bring your organization's collective wisdom together in one place. Collaborators can come from any internal team, such as customer service, sales, shipping, billing, returns, etc.
The Collaborator feature also allows technicians to harness the expertise of external stakeholders, like vendors and suppliers, to help resolve complex IT challenges.
Collaborators pool insights by leaving private notes, assisting technicians with conversations and drafting help center articles. All communication between collaborators takes place right within the SingleView™ dashboard—eliminating confusing email chains and disjointed notes.
The input gathered from these collaborators is then saved for future reference.
Deploy Quickly, with Virtually No Training Needed
With Kayako, you can have your new internal IT help desk up and running within hours. And since it's so easy to use, there's no need for additional training or certification.
Kayako saves everyone valuable time. The increased efficiency starts from the moment you get it set up.
We know you're growing fast. Kayako is built to scale with you, so it will work just as smoothly today as it will when you've grown to 100x your current size.
"Kayako positively and profoundly impacted how we interact with our customers daily and has allowed us to build meaningful relationships with them while also providing clear, concise customer service."
"From Day 1, we realized that Kayako shares the same passion for 'Customer Wow' as we do. Their tools and experience help us make this philosophy into a reality – effective, prompt, and succinct support."
"With Kayako, it's easy to quantify exactly how productive and efficient we really are. Our process is now quick and transparent and our customers, partners and staff are very happy with it."
"Kayako allows us to more effectively manage, monitor and deliver customer support. The Kayako solution was easy to implement and support as well as enhancements on the product have been outstanding!"
"We've been extremely satisfied with Kayako. So satisfied that we've never even thought about what alternatives might be available."
Companies You Love Choose Kayako

Eliminate Friction from Your Internal IT Support Process
Request a demo. No credit card required.