Why is Kayako the right Freshdesk alternative for you?
Freshdesk is a powerful and flexible help desk platform. It provides a lot of ways to keep in contact with your customers including messaging, call centers and customer success features. 
If you're looking for a Freshdesk alternative, all those bells and whistles might not work for you or you haven't been able to take advantage of them. 
Kayako gives you real, human customer conversations you can actually use to increase retention and satisfaction.
Want to see what the key differences are?
Kayako vs Freshdesk
Kayako and Freshdesk are two vastly different help desk solutions. We'll walk you through the main differences below. 
At a high level, Kayako provides you with a contextual, comprehensive view of the entire customer journey, that Freshdesk or other solutions with their ticketing system don't.
This unique way of visualizing all your conversations in one place, plus the ease of integrating hundreds of apps with a few clicks - and for free, make Kayako one of the best options for small, non-technical teams. While still allowing for the customization level that Kayako has been known for since its beginnings in 2001.
Add on top of it a reliable, fast cloud based platform, and 24/7 customer support, and you can see why customer support can get very productive with Kayako. 

"Customer satisfaction went up by 12% since switching to Kayako… Administrative work of my employees went from 3 hours/month to just 0.5."
– Eege K, Service Manager (G2)
"We automate a lot of what used to be manual email followups for our customers. We didn't want a clunky ticket tracker - we wanted something that will help us collaborate on customer conversations."
– Administrator (G2)
"​​We have really liked Kayako's ability to provide context. Unlike other solutions out there, Kayako gives us a complete view of every interaction a customer or prospect has had with our business. Really puts customer and prospect interaction history at my teams fingertips."
– Customer in IT & Services (G2)
Top 4 reasons customer service teams choose Kayako over Freshdesk for their help desk and ticketing systems
Freshdesk offers a lot of versatility with their messaging and contact center products. But is that enough to be proactive and personal with customers?
Here's why customers are switching from Freshdesk to Kayako for their help desk platform.
Capture your customer's journey
Way more than a ticket tracker. It's a personal experience.
While Freshdesk offers a robust ticketing system, small teams might feel siloed due to the complexity of managing and collaborating on tickets. 
It might be what has worked for years. But it's not the way humans interact with each other. And it might make it harder for your team members to offer the personalized experience your customers want.
With Kayako you can finally treat customers like individuals, not like faceless ticket requests. 
SingleView™ allows you to provide quick, personalized responses, avoid asking redundant questions and stay in the loop in case someone contributed to the conversation. All from one place. 
Here's some of the context you can get:
site visits

purchases

shipping history

previous customer service inquiries

self-help searches

self-help article views

marketing emails they've received

and more.
Plus, you can capture events from your own product, app or service by connecting to 700 apps with Zapier. 
Slack and SalesForce integrations come out-of-the-box.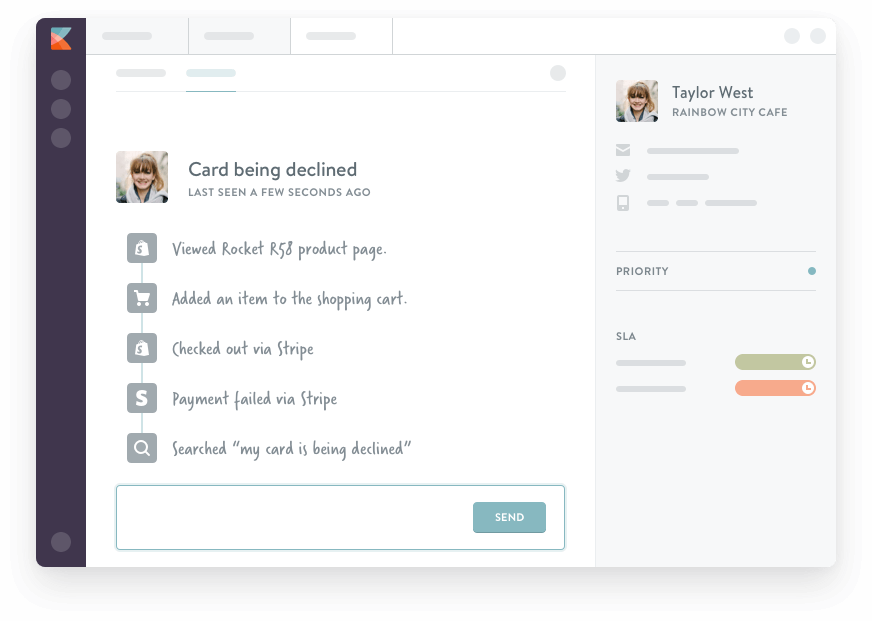 Free, easy integrations
Easily work with the apps you love, for free
You're already paying for a product. Giving you a marketplace where you can access a myriad of integrations that you have to pay for down the line, is not ideal. 
Freshdesk offers 1,000+ apps you can integrate with it, but a lot of those are paid. Yet another cost factor to keep into account. And preventing you from scaling.
With Kayako, you can work with 700+ apps, free and without writing a line of code. How?
You can use Zapier to quickly and easily spin up workflows and automations.
Integrate with apps like Slack, Salesforce, Atlassian JIRA, and Trello. 
You can even create instant, real-time multi-step automations. 
And to make your life easier, we've pre-built Zapier templates (30+), so you can get started right away. 
Effortlessly create connections that allow you to:
Add new Shopify customers to Kayako

Subscribe new Kayako users to a MailChimp list

Create or update Kayako users and cases from new Typeform entries

Add Stripe payments to a Kayako users timeline

Add tagged Kayako cases to Trello

Add new Magento customers as users on Kayako

Add new Kayako conversations to Google Sheets as rows

And more…
Plus Kayako helps you go further if needed, with our powerful, well-documented API, Webhooks and Kayako Apps (like our Salesforce integration).
High availability and stability
Get a reliable, stable and intuitive cloud based platform
Kayako was founded in 2001 and paved the way for most other popular help desk solutions (including Freshdesk) that appeared on the market around 10 years later. 
The experience our team brings to the table guarantees that the technology we provide is as smooth as the customer experience we help you achieve.
Especially after our move to the cloud.
Tough to say the same for other help desk solutions out there today. 
Many of them are clunky, buggy and, as a few Freshdesk reviews mention, tend to slow down when hit by spikes in requests.
What's the point of a help desk solution that slows your ability to respond?
Kayako helps your team be more productive with an easy to use interface and reliable cloud-based platform you can count on. 
"One of the KEY FEATURES is that the tool is FAST and keeps a focus on the work area for staff, rather cluttering everything with detail fields." 
Christian M., Director Technical Support -

Capterra
"Kayako has a modern fast interface that will guide you what queries you want to know , and the fast response from the server , also its mobile application ."
A stable and fast platform is great, but when you need extra human help fast, good support is what makes the difference. 
Which brings us to…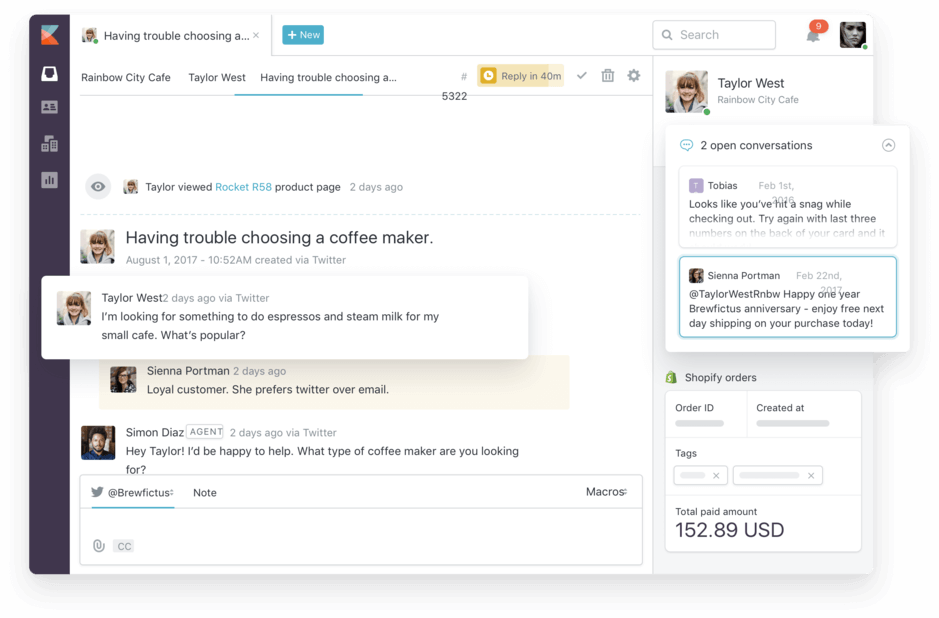 24/7 customer support
A customer support platform that walks the talk
Although Kayako has improved better over the years, we don't claim to be perfect. Sometimes bugs or disruptions can happen especially with so many integrations and moving pieces. 
But what makes the difference between a platform you can trust and less reliable providers is its customer support dedication and response times.
Whether it's replying to questions during implementation (which most competitors don't offer), responding quickly to your tickets, providing a helpful and easy to access knowledge base, communicating changes or being available 24/7, we've got your back.
Take what Ali, an IT Director said:
"Best of Customer service I know of, the support team knows what they are talking about. The resolution to any of my issues resolve in less than 20 min, staff automatically know what to do, knowledge base is very helpful".
Everything we do is to help you provide better customer service. Whether you're just starting out and have questions about best practices or you're dealing with millions of customers, we're with you every step of the way.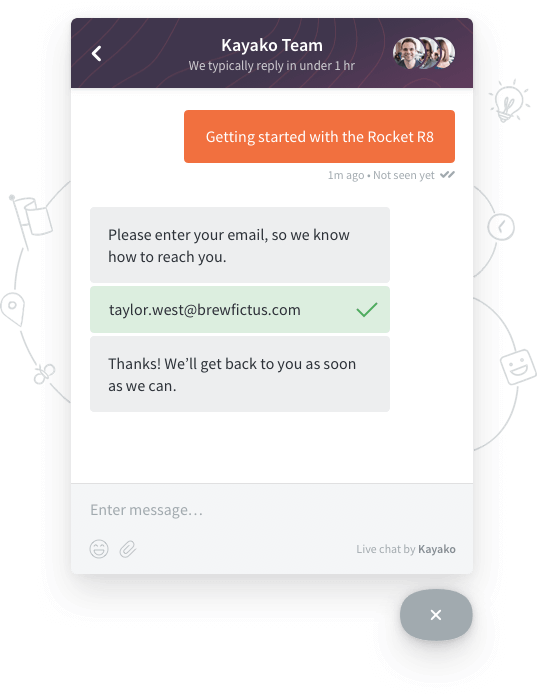 Provide proactive and personal customer service, with a centralized help desk platform you can trust
SingleView™ to access the entire customer journey in one place

700+ free and easy Zapier integrations

Reliable, stable and intuitive cloud based platform

24/7 dedicated customer support