Help Desk Ticketing System And Much More
Kayako's ticketing software makes customer service and support easy and personal across live chat, email, Facebook and Twitter.
Support Your Customers In A Connected And Personal Way — Don't Just Support A Ticket
Provide the best customer experience through conversations that offer context into your customer's journey. Unlike other ticketing system software, Kayako helps you to understand your customers better and provide support that's personal.
Ticketing System Software Reimagined
In today's world of multi-channel customer interactions, businesses are in search of the best tools that can help consolidate all the customer conversations agents have across live chat, email and social media. With a help desk ticketing system, businesses are able to optimize their customer service and support departments. The ability to respond quickly and accurately and to provide a connected and personal experience can have a major impact on how happy your customers are.
Kayako's SingleView™ brings every interaction your customer has with your business into our help desk support ticketing system, giving your agents a centralized, easy-to-use visualization of the entire customer journey. These interactions can range from purchases and returns to technical support queries. This approach empowers your customer support team by giving them the context they need to immediately respond and support customers in a way that's quick, accurate and personal.
The Power Of Teamwork
Kayako comes with features that help your agents work smarter and, as a result, resolve customer issues faster. Your support team's productivity increases by leveraging out of the box features such as predetermined canned responses, expert collaborators, notes, etc. The benefit of each of these features sets Kayako apart from the competition as one of the best help desk and support ticketing system softwares on the market.
To resolve complex customer service challenges, Kayako empowers your agents with the ability to instantly engage with internal experts as well as with outside vendors and suppliers. The input gathered from these collaborators is then saved for future reference. The benefit of each of these features sets Kayako apart from the competition as a top customer support ticketing software.
Immediate Customer Service And Support
Help customers in real time with live chat, and deliver support that's personal by treating your customers like individuals and not tickets. Kayako's SingleView™ provides a full visualization of the entire customer journey so that you don't have to ask additional or repetitive questions.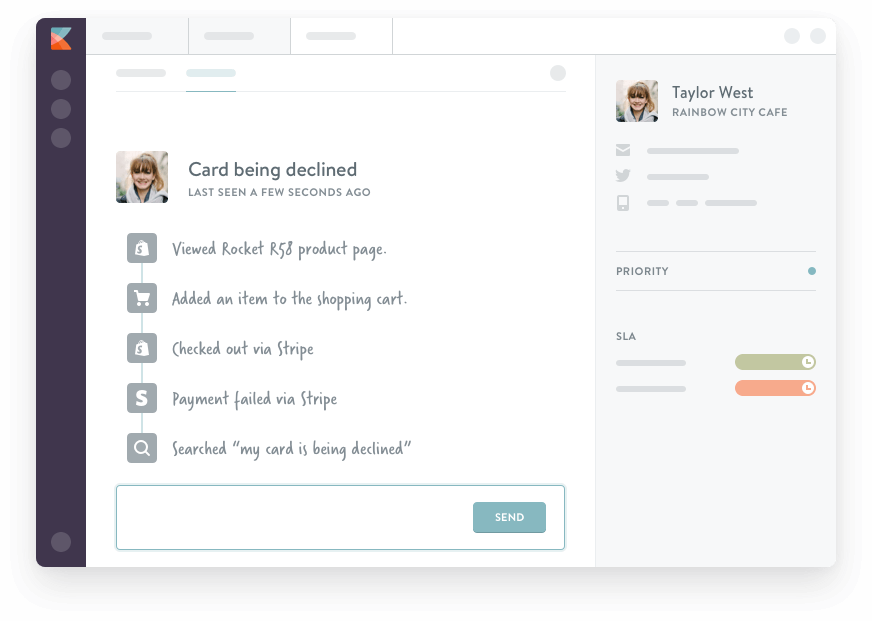 Know Your Customer's Journey
Capture your customer's journey in a way a ticket never could. All the context you need to provide the best customer experience is at your fingertips in one centralized, easy-to-use view.
An Easy-To-Buy, Easy-To-Use Ticketing System
Whether you're a startup or a growing business, Kayako has you covered. With  affordable pricing, you can start at any level and scale at your own rate. Kayako's ticketing system software has what it takes to meet all of your current and future needs. We cater to businesses of all sizes.
With simple pricing of $125 per agent, effortless customer service has never been more affordable. Kayako includes every feature a small business needs to provide excellent customer support: a self-service knowledge base, multi-channel support, easy integrations, and insightful performance reports.
Why Choose Kayako?
With Kayako, you get more than just a help desk ticketing system software. You get a powerful customer service platform at an affordable price point with out-of-the-box features that empower your team to provide excellent customer support.
Omnichannel Support
Interact with customers using their preferred communication channel, be it live chat, email or social media.
Reporting & Analytics
Visualize your team's workload and performance with at-a-glance dashboards for key support metrics.
Self-Help Knowledge Base
A repository of articles, videos and FAQs enable customers to find the answers they need 24/7 without waiting for an agent.
Live Chat
Keep customers happy through personal real-time conversations. Add live chat to your help center, website and mobile apps
Customer Journey SingleView™
See all of your customers' interactions and activities in one place so your team can deliver proactive, personalized support.
Automated Workflows
Save time with end-to-end workflows that route conversations, answer common queries with 1-click replies, update ticket statuses, and more.
CSAT Scores
See how well your agents are supporting customers, and identify where you can improve.
Collaborate
Instantly engage with internal experts across your organization as well as with outside vendors and suppliers to resolve complex issues quickly.
Easy Integrations
Bring customer activities into Kayako for immediate context by connecting to hundreds of apps with Zapier. Slack and SalesForce integrations come out-of-the-box.
Self-Service Ticket Status
Customers can check the status of their help desk tickets, see what activity has taken place and add more information including pics
and videos.
SLA Notifications
Set internal goals for ticket response time and ticket resolution time and send automated reminders to agents to ensure they never miss a deadline.
Smart Routing
Prevent multiple agents from responding to the same ticket by automatically combining all of a customer's inquiries (even across multiple channels) and routing them to one designated agent.
"I love that with Kayako, I can have conversations with my customers instead of just treating them like faceless tickets. This is the easiest and most efficient customer support tool that we've ever seen - and highly customizable. They're light-years beyond anyone else on the market."
Over 131,000 Agents Provide Support Using Kayako

Resolve Tickets Faster With Less Effort
Request a demo. No credit card required.