Why should you move to the new Kayako if you're already using Kayako Classic?
Kayako Classic has helped IT and customer support professionals like you with a secure, fully customizable and transparent self-hosted help desk platform for the past 15+ years. 
But maintaining an on-premise tool is becoming more expensive. And let's face it, customer support has changed.
The new Kayako gives you the same quality, secure and reliable product, with the workflow, collaboration and cost-saving upgrades you've been asking for. 
Want to see what makes the new Kayako different?
The new Kayako vs Kayako Classic
There are big differences between Kayako Classic and the new Kayako, and we'll explore them below. The biggest shift and decision has been taking the platform from on-premise to the cloud. 
But that's not all.
Apart from the drastic improvements in workflow, collaboration and visibility features, with the new Kayako, you can finally give non-technical customer service teams a no-code solution they can customize and integrate with their current toolset.

You can now also fully automate workflows that route conversations, update ticket statuses, send predefined replies and keep you on track with SLA requirements.
Plus, we're helping you save precious time and resources, by bringing all your customer conversations, whether from social, email or live chat, together in one place. All on a cloud-based platform you don't have to maintain or worry about.

"A centralized ticketing desk that our entire team has access to, giving everyone in the company the ability to help or update clients on requests no matter where in the organization they sit."
– Edwin W., Customer Success Manager (G2)
"Since kayako was integrated to our work field the ease and attention directed to our customers has increased and improved, we have had more sales and more loyal customers have taken us into account again.
– Abygail S., Purchasing Manager (G2)
"Kayako allowed us to manage our Help Desk while keeping costs down but still providing enough functionality to streamline our support and communication to the users."
– Jon S., Vice President of Information Technology (Capterra)
Top 5 reasons IT and customer support teams are switching to the new Kayako for their help desk and ticketing systems
On-premise has always been the go-to solution for software when it comes to security, stability and level of customization. 
So why are customers switching to a cloud based platform like the new Kayako from Kayako Classic for their help desk system?
Easy migration and new features
All the updates and features you've been asking for
While still a solid platform, especially for technical teams, Kayako Classic might no longer fit the way you need to support your customers. And yes, you might have thought we've dropped the ball. 
But we've been listening. 
And one thing we've heard was how some customers were looking into Zendesk and Freshdesk as two popular solutions. But is switching to a completely new platform the best for your migration process?
We've brought the new Kayako to life, not only to help you move your helpdesk to the cloud, but also to finally give you all the exciting new updates and features you've been asking for. As soon as they're available.
Features like: 
unified and contextualized conversations

Twitter and Facebook support

unified search

help center HTML and CSS editing

automations (time based monitors and event based triggers)

the new Kayako Messenger, collaborator users, Zapier integration

single sign-on for your team

and much more…
Plus, while with Classic, you would only receive big, quarterly package releases, with the new Kayako, you can get bug fixes instantly.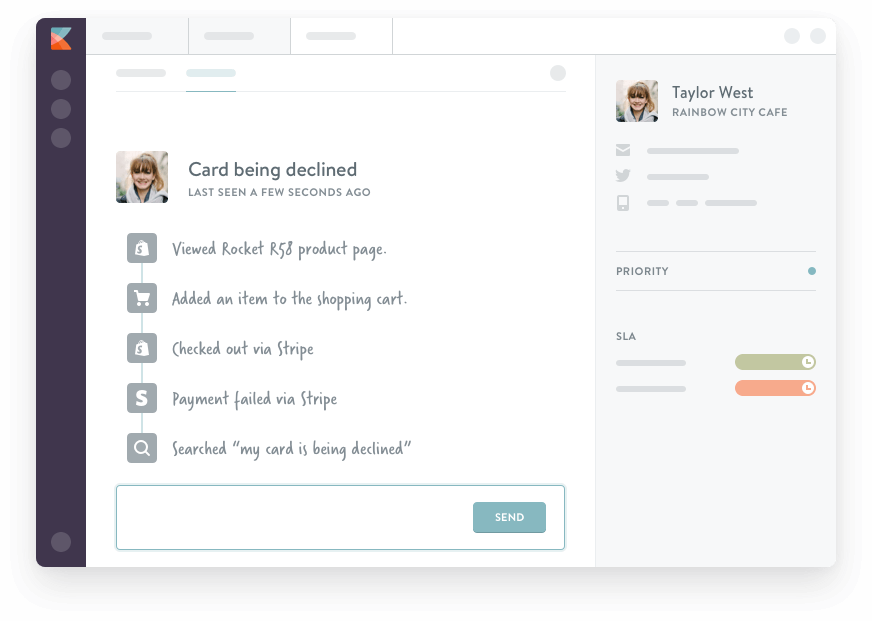 No code integrations
Easily connect with 700 apps using Zapier
With the new Kayako you don't need to spend precious time and resources on coding complex custom integrations to simplify your life. 
We've built it with the newest integration methods, so you can use Zapier to quickly and easily spin up workflows and automations with the business apps you use the most. 
Apps like Slack, Salesforce, Atlassian JIRA, and Trello. 
You can even create instant, real-time multi-step zaps. 
And to make your life easier, we've pre-built Zapier templates (30+), so you can get started right away. 
Effortlessly create connections that allow you to:
Add new Shopify customers to Kayako

Subscribe new Kayako users to a MailChimp list

Create or update Kayako users and cases from new Typeform entries

Add Stripe payments to a Kayako users timeline

Add tagged Kayako cases to Trello

Add new Magento customers as users on Kayako

Add new Kayako conversations to Google Sheets as rows

And more…
Zero lines of code needed. No more asking your developers to spend hours reading REST API docs to figure it out.
Plus the new Kayako helps you go further if needed, with our powerful, well-documented API, Webhooks and Kayako Apps (like our Salesforce integration).
Out of the box workflow automations
Focus on customer communication, not on admin tasks
With Kayako Classic you either had to devote resources to automate the flow of conversations and to make it easier to keep track of everything going on, or spend time chasing and never catching up on admin and operational tasks. 
The new Kayako allows you to focus on the actual conversations, with workflow automations out of the box. 
You can easily build complex rules to help you send automated conversation emails and surveys, set and monitor SLAs target response and resolution times or escalations, send reminders and notifications to your agents or teams, assign conversations automatically to the right person, or even combine all of these into powerful end-to-end workflows.  
No more time spent checking in with database schema structures to create your workflows. 
Kayako Classic offers a great starting point but it's time to make automations accessible to anyone in your team, not only to developers.
Unified conversations
All your customer conversations, from all touch points, in one place
While Kayako Classic allows you to never miss important customer messages via email or support chat, it's not the best at providing you with the context and information you need to truly provide dedicated, fast and frictionless customer support.  
Especially when today's customer conversations are happening across a plethora of media. 
The new Kayako on the other hand allows your agents to always get the latest information and comprehensive view of what's been discussed, where and by who - in one place.
And whether it happens over email, chat, Twitter, Facebook or any other medium you're using with Kayako. 
Plus you can complement your conversations with internal-only notes and all conversations include information on everything a customer has done in Kayako or on connected external systems, since they first got in touch.
With the new Kayako you can finally have conversations that feel human, to you and to your customers.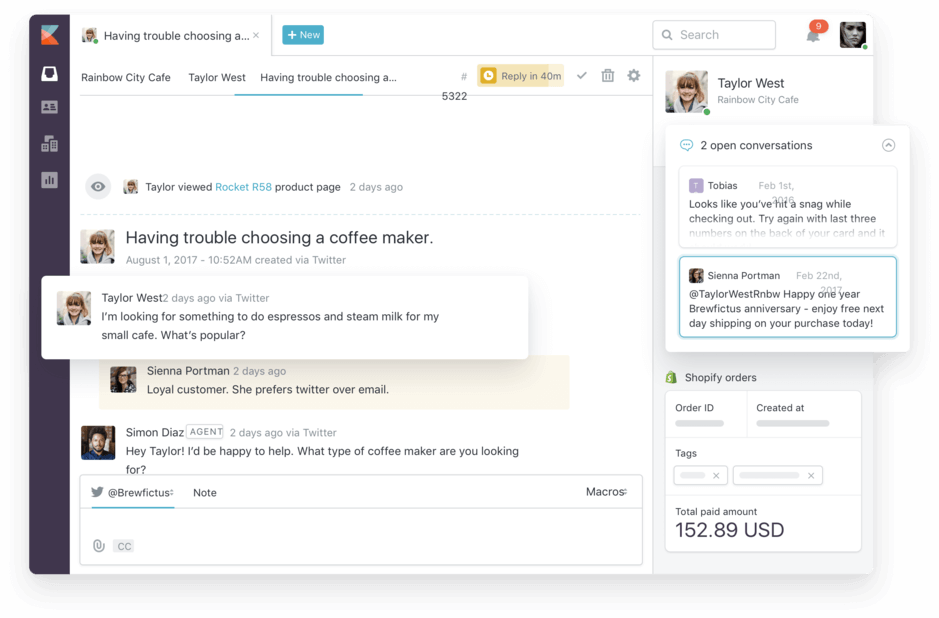 Cloud based platform
Provide truly frictionless customer support, faster and cheaper
Kayako Classic is the only on-prem customer help desk solution out there. While we're honored a lot of customers stuck with us for so long, we also care about them getting the most out of the technology they pay for. 
With the new Kayako being cloud-first, you don't have to worry about infrastructure maintenance, scalability issues, performance challenges and downtime. 
And you can start providing fast, frictionless support whether you're a growing small business or a 500+ employee business. Within 15 minutes, not days. 
In addition we can bring you modern web technologies to guarantee the smoothest user experience and features you were missing in Kayako Classic. 
No more building complex KQL queries to run your reports. Get insights with built-in analytics dashboards.
And no need to configure cron jobs. Everything happens in real time.
Plus we've baked in all the important customization features and security that made Classic a great product. 
Here's what a customer who made the switch said:
"...we've been looking to switch, and we decided to check out the new cloud version of Kayako. The product has come a long way since its self-hosted service desk days. At first glance I like the clean and simple UI. On a deeper dive, I'm happy to see the same level of depths for complexity and customization is still available, just presented in a new way."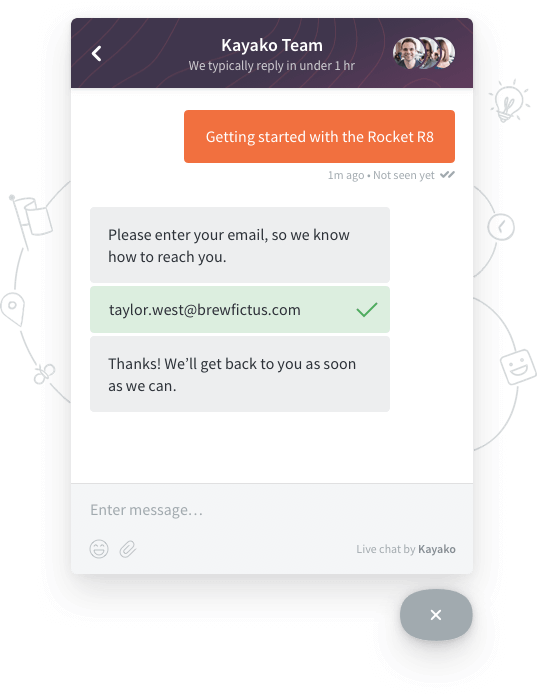 Finally give your customers the dedicated,responsive and human support they want, at scale
Scale your customer support with the latest features

Easily connect with 700 apps without writing any code

Get out of the box workflow automations

Have more human conversations, in one place

Save time, money and resources with a cloud based help desk