Still Using Email For Support? It's Time To Upgrade To Kayako's Modern Email Management Solution
It's easy to use standard email clients like Gmail, Yahoo or Outlook for handling the basic needs of customer support.
But as your business scales, so does your growing list of folders, filters and color-coded labels. Critical information becomes buried, customer inquiries start to fall through the cracks, and soon your entire customer service process is compromised.
You owe it to your customers—and your team—to modernize your customer service experience. Doing so will not only save you tons of time, it will help you develop a seamless, proactive, customer-centric approach to support.
Below, you'll find the top reasons why businesses choose Kayako as an alternative to any email client. Or, check it out for yourself with a free trial.
Give Customers A Better Experience With Proactive, Personalized Support
Treat customers like they're people, not numbers. Kayako SingleView™ gives your agents a complete visual timeline that includes every interaction your customer has had with your business. It's all the context your team needs and nothing they don't need, allowing for a truly effortless experience—not just for your customers but for your agents as well.
No more overwhelming email chains, lost messages or repetitive questions. The information your team needs to respond quickly and personally is right at their fingertips.
No More Complicated Email Chains Or Confusing Forwards
You'll never need to send or sort through a confusing group email again. Kayako's easy collaboration features keep the whole team on the same page.
Your agents can pool insights with shared notes, engage with internal experts across your organization and connect with outside vendors or suppliers - all without leaving the Kayako dashboard.
No context is lost, and everything is kept in one place.
"Kayako positively and profoundly impacted how we interact with our customers daily and has allowed us to build meaningful relationships with them while also providing clear, concise customer service."
"From Day 1, we realized that Kayako shares the same passion for 'Customer Wow' as we do. Their tools and experience help us make this philosophy into a reality – effective, prompt, and succinct support."
"With Kayako, it's easy to quantify exactly how productive and efficient we really are. Our process is now quick and transparent and our customers, partners and staff are very happy with it."
"Kayako allows us to more effectively manage, monitor and deliver customer support. The Kayako solution was easy to implement and support as well as enhancements on the product have been outstanding!"
"We've been extremely satisfied with Kayako. So satisfied that we've never even thought about what alternatives might be available."
Effortless Communication Across Any And Every Channel
Your customers preferred communication channels will vary—which can make it hard to keep up.
With Kayako's omnichannel solution agents can interact with customers using the customer's preferred communication channel, be it live chat, email or social media—all from within the Kayako dashboard.
Kayako unifies all of your channels and puts all customer communication in one place so your agents can keep the conversation going, even when your customer switches from Twitter to email… and back again. This saves you time and reduces customer effort.
Stop Wasting Time Switching Between Apps And Get The Information You Need, Fast
Sometimes the customer information you need is buried in your eCommerce system. Sometimes it's in the CRM. Sometimes it's in your shipping system, your billing system, etc.
Kayako consolidates your business, bringing all customer information and activities together, with simple integrations to hundreds of popular apps and platforms. Your agents will spend less time looking up information and more time helping customers.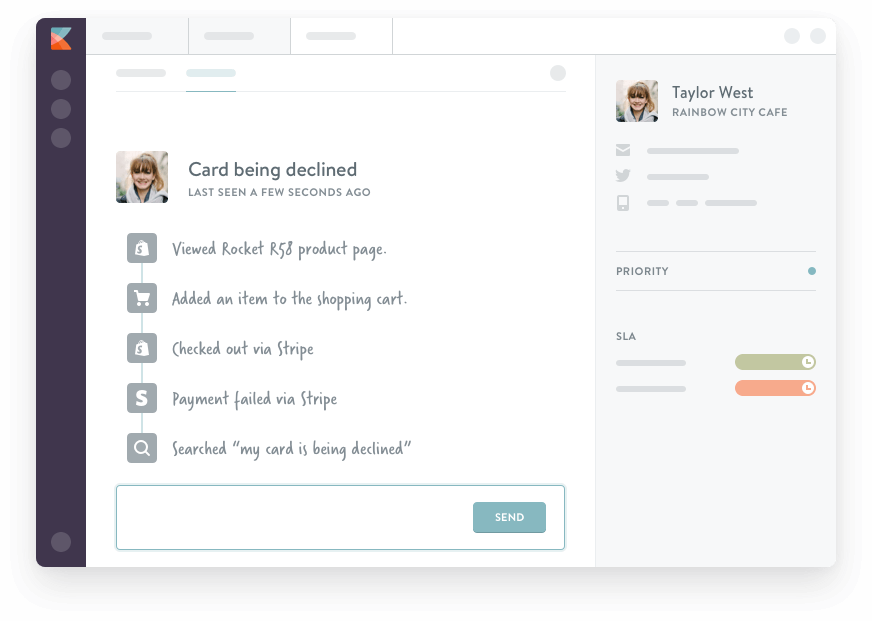 We're Here To Help — Whenever And However You Need Us
Everything we do is to help you get better at customer service. Whether you're just starting out and have questions about best practices or you're dealing with millions of customers, we're with you every step of the way.
Stay Personal As You Grow
Manage hundreds or thousands of conversations while treating every customer as an individual, not a number.
Support Customers As A Team
Collaborate in a shared multi-channel inbox to provide faster responses and better answers, together.
Truly Understand Your Customer
Bring all your customer information and activity into one place with SingleView™, and understand your customer better than anyone else can.
Untangle And Automate Your Shared Inbox With A Modern Email Management Solution
Sign up for a 14-day free trial. No credit card required.